2017 Volkswagen Beetle

For turbocharged performance in an iconic package, hop into the 2017 Volkswagen Beetle. Your fellow drivers will see the Beetle's classic exterior design coming from miles away, and, when you pass them, they'll get a firsthand look at just how sporty this hatchback can be. Inside, the Beetle is at once retro and modern, with throwback-style gauges and customizable ambient lighting. Throughout your travels, you'll enjoy long-lasting comfort and support.
2017 Volkswagen Beetle
The 2017 Volkswagen Beetle puts a fresh spin on the line's iconic style. In addition to the familiar Beetle shape, the new model sports stylish bumpers and sleek LED daytime running lamps to amp up its overall look. Inside, throwback flourishes, including retro-inspired gauges, are coupled with modern touches, like customizable interior lighting. You can also expect a modern take on passenger comfort. The front seats will get you through hours on the road without a peep of complaint. Leatherette sport seats are designed for maximum support, so you stay snug as you take on winding roads with enthusiasm.
Once you explore the new Car-Net infotainment system, you'll wonder how you ever managed without it. All but the base Beetle model provide complete smartphone integration, including Apple CarPlay and Android Auto. Simply connect your smartphone to the central system, and compatible apps automatically appear. This way, you can interact with your contact list and Pandora account without looking down at your phone – and away from traffic. With the Fender premium sound system, you can impress your friends with concert-quality audio.
Turbocharge your daily ride in the 2017 Volkswagen Beetle. Whether you're launching from a red light or streaming into a jam-packed highway, the Beetle puts serious speed at your command. It puts competitors to shame with its swift acceleration, making it the sporty retro-style hatchback for true driving enthusiasts. As you zip around town, the Beetle's thrifty fuel economy helps you keep money from flying recklessly out of your wallet. Depending on powertrain configuration, the 2017 Beetle earns up to 24 city/33 highway mpg.
The new Beetle has got it all – high-tech brains, turbocharged brawn, and stunning safety. In government crash tests, it earned a perfect five-star rating for overall protection. The Insurance Institute for Highway Safety gave the Beetle its top score of "Good." High-end safety features, like blind-spot monitoring, keep an eye on your surroundings so you can enjoy new levels of confidence on the open highway. All models come with a rearview camera, making it easy to spot anything that might stand in your way.

Beetle Dune
Want something a little different, an off-road take on the classic Beetle styling? Choose the Beetle Dune, which offers unique style, a wider track, and raised suspension to give it a more rugged, athletic look. On the inside, you'll get leatherette seating with yellow accents, three-color ambient lighting, an eight-speaker sound system, and a leather wrapped steering wheel to up the sporty ante.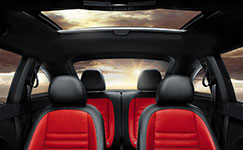 Panoramic Sunroof
This available feature brings fun to the interior of any Beetle model, expanding the spacious feel of the already comfortable car.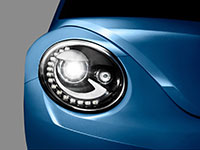 Bi-Xenon Headlights
Cut through fog and dark with these impressive headlights.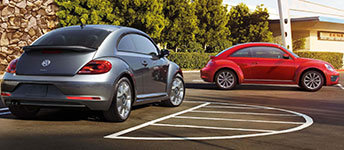 Iconic Styling
You can't beat the iconic style of a Beetle, reimagined for the 21st century.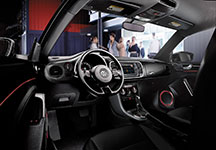 Upscale Console
With a sporty, leather-wrapped steering wheel, easy access touchscreen, and a sport-mode transmission, the console of the Beetle gives drivers what they want and need–right at their fingertips.
Conclusion
Your 2017 Volkswagen Beetle offers so much more than iconic style. Its turbocharged powertrain delivers on its promise of swift acceleration – even as it saves you money at the pump. Retro style, tech-savvy safety features, and comfort makes the 2017 Volkswagen Beetle an impressive option in the compact class.
Read Next
New Volkswagen Reviews