2017 Volkswagen Golf GTI

Rock a high-performance lifestyle in the iconic 2017 Volkswagen Golf GTI. When you floor it, this hot hatch delivers enough G-force to press you to your seatback because of the up to 220 horses at your command. The Golf GTI pairs potent performance with high-powered comfort and safety, making it a fine option for anyone looking for the best of performance, comfort, safety, and style.
2017 Volkswagen Golf GTI
If you're looking for hot-hatch performance coupled with sporty luxury, you'll find a lot to love in the 2017 Volkswagen Golf GTI. Under the hood, a turbocharged 2.0-liter four-cylinder engine acts as the GTI powerhouse, churning out up to 220 horsepower and 258 pound-feet of torque. With the six-speed manual, you can downshift at will, leaving slower vehicles to eat your dust. Choose the six-speed dual-clutch automatic to take on the competition at your local strip.
With the Golf GTI, luxury is second nature. In spite of a seriously sporty ride, items like the leather-wrapped steering wheel give off an upscale vibe. Bold red stitching and ambient interior lighting add to the overall effect, as does the iconic Clark plaid upholstery that is an available option. In the middle of a snowstorm, the GTI's heated front seats offer that just-right amount of coziness. And then there's space – of which the Golf GTI has plenty. Accommodations in both rows supply the head and leg room you need for a road-trip-ready ride.
In the 2017 Volkswagen Golf GTI, thoughtful technology is always at your fingertips. The performance monitor is tuned into your high-performance ride, keeping a read on G-force, boost pressure, and oil temperature. That way, you push your hot hatch's performance to the limits without missing a beat. You can even customize the performance monitor in order to keep a closer eye on specific high-powered functions. The Golf GTI is also designed to keep you connected. There's a central touchscreen in every single model, and smartphone integration features include Apple CarPlay and Android Auto. This technology projects smartphone apps onto the central screen – that way you can reach for important apps like call or text without diverting attention from the road ahead.
Turbocharge your peace of mind in the GTI, which sports stunning crash-test scores and savvy safety gear. In government crash tests, the Golf GTI earned a perfect five-star rating for overall protection. The Insurance Institute for Highway Safety named the GTI among its 2017 Top Safety Picks. The GTI's forward collision warning system does more than sense a too-fast approach – it can actively apply the brakes to reduce damages. The Golf GTI's automated parallel parking system will make you look like a pro in the battle for downtown parking spots.

Golf GTI Autobahn
Ramp up the sporty performance with the Autobahn, which features accents of red throughout its external styling (even down to its red brake calipers!). MacPherson struts and performance tires give you more on the road, and added options like heated wipers, heated mirrors, and power tilting/sliding sunroof give you an upscale feel.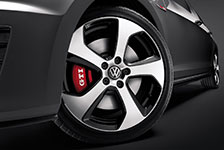 18-inch Austin Wheels
Up the ante as you grip the road with these impressive 18-inch wheel options.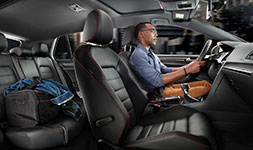 Sporty Interior Options
Set yourself apart from the competition with interior styling options that include plaid seats.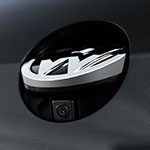 Rear View Camera
Cleverly hidden by the VW badge, the rear view camera gives you an additional layer of safety protection.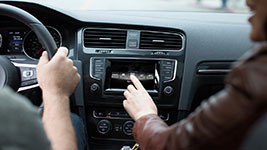 Car-Net Connect
Get entertainment, navigation, and traffic at the touch of a screen.
Conclusion
Hop into your 2017 Volkswagen Golf GTI for a high-powered ride into the sunset. Odds are you've never experienced performance quite like this – you'll always enjoy that coveted combo of explosive speed and responsive handling. Inside, the GTI's preppy style and upscale features make your ride that much better.
Read Next
New Volkswagen Reviews