2017 Volkswagen Jetta vs Honda Civic

With their rich passenger comfort and lively performance, the 2017 Volkswagen Jetta and Honda Civic are major players in the compact segment. If you're trying to choose between these two models, you probably have a lot of important questions. You'll want to know which model gets the best fuel economy and whether your family members will be comfy in the backseat. Check out our comparison guide to learn more.
2017 Volkswagen Jetta vs Honda Civic
Passenger Comfort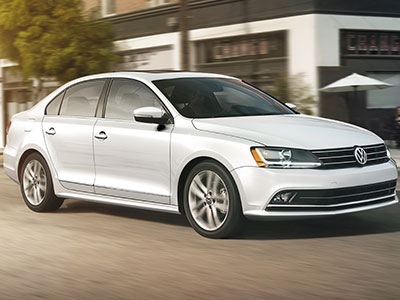 The Jetta's brilliance lies in its expansive cabin dimensions. The backseat is especially competitive, overshadowing rivals with major head and leg room. You can take the Jetta on family road trips without any pesky elbow overlap. In the truck, you'll find 15.5 cubic feet of cargo space for all of your beach gear and overnight bags.
The Honda Civic scores points with its refined style, with high-quality materials in every single trim model. Even the imitation leather feels like the real deal. The Civic's trunk is only slightly smaller than the Jetta's, with 15.1 cubic feet for your weekend adventure supplies. Unfortunately, the Civic's downward roof slant cuts down on visibility – luckily, however, it doesn't reduce head room for rear-seat passengers.
Technology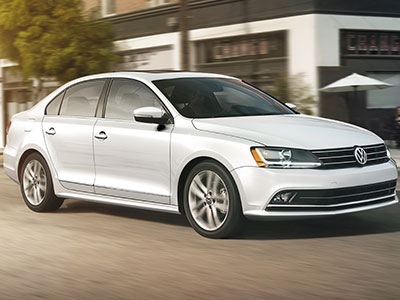 This year, the Jetta returns with all the latest in tech gear. Smartphone addicts will love Apple CarPlay and Android Auto connectivity, which display important apps like Maps and Messages right on the central touchscreen. True audiophiles will appreciate the Jetta's ability to play FLAC music files, the latest in lossless digital technology. But even if you're not that tech-savvy, the Jetta has you covered. Its touchscreen is intuitive and easy to deal with in traffic.
The central HondaLink system includes a crisp central touchscreen and convenient voice controls. It also features Apple CarPlay and Android Auto, so you can stay connected with both eyes on the road ahead. However, it can be confusing to switch between the Apple CarPlay/Android Auto interface and the proprietary Honda system, which could create an unnecessary distraction from traffic.
Performance and Fuel Economy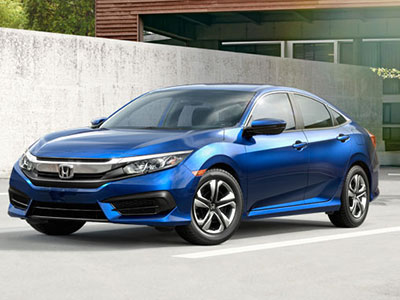 With its frugal EPA ratings, the Civic will get you around town without even cracking your budget. Depending on the powertrain you select, the Civic earns up to 32 city/42 highway mpg. Moreover, this little compact had developed a well-earned reputation for a smooth, easygoing ride.
The 2017 Volkswagen Jetta also provides a fuel-efficient performance, earning up to 28/40 mpg and trailing the Civic only slightly. In addition to a budget-friendly ride, the Jetta always feels powerful in merging and passing situations. All three engine options are turbocharged, so you can expect a speedy performance on all fronts.
Safety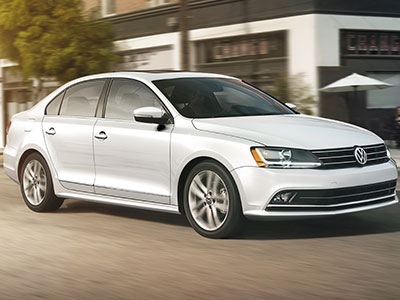 In government crash tests, the Jetta earned a perfect five-star rating for overall safety. If that's not enough to put you at ease behind the wheel, the Jetta's high-tech offerings surely will be. The Car-Net telematics system is quick to send help when you need it, with features that include stolen vehicle location and automatic crash notification. The geo-fencing feature even lets parents set boundaries to keep teens from wandering too far off from home.
In the Civic, you'll also enjoy the peace of mind that comes with top crash test scores and high-tech safety gear. Just like the Jetta, you can add forward collision warning to your Civic. This technology includes automatic braking to mitigate damages or even pull you up short of danger. However, in the Civic, these driver aids can be a little too quick to react, which can drive you crazy in real-life driving.
Learn More about the Volkswagen Jetta

Both the 2017 Volkswagen Jetta and Honda Civic have their high points, but the Jetta is definitely our first choice overall. In addition to a speedy, fuel-efficient performance, the Jetta feels cool and composed in any setting. Inside, this compact is seriously spacious, with generous head- and legroom in both rows. Comfy seating and modern infotainment features add to the Jetta's appeal. And, wherever you roam, features like Apple CarPlay and Android Auto keep you connected with integrated hands-free calling and texting features. You'll get what you want and what you need from the 2017 Volkswagen Jetta.