2017 Volkswagen Tiguan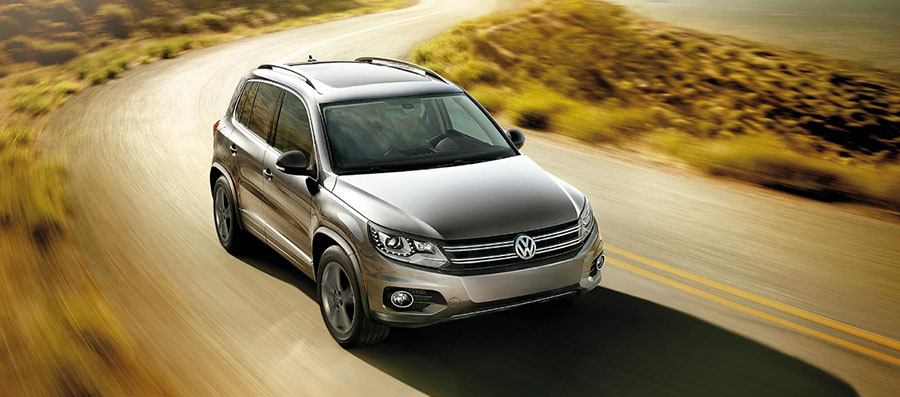 View Inventory
Volkswagen is about to unveil the newest version of the Tiguan, which means the 2017 model is the last of the first generation. What does that mean? It actually means that the 2017 Volkswagen Tiguan is the best of its generation-they always save the best for last-and a great opportunity for a smart buy. This sporty compact crossover offers smart design, comfort, and options that allow you to create the SUV of your dreams.
2017 Volkswagen Tiguan
Styling
The Tiguan, like most Volkswagen, doesn't jump on the bandwagon of futuristic styling. It's a tall, five-door hatchback crossover that looks and feels like a Volkswagen-and that's a fantastic thing in a field of crossovers that are all beginning to look the same. Volkswagen's commitment to keeping the 2017 Tiguan confidently unique has translated to sales all over the world. The Tiguan feels like a taller, more imposing version of the Golf, and the larger wheels on higher trim levels can give it a more aggressive look than you might expect. You won't have any trouble finding your vehicle in a crowded parking lot!
Interior
The 2017 Volkswagen Tiguan is no exception to VW's reputation for quality interiors. Everything from the upholstery and trim materials and details feel upscale. Overall, the quality feels more like what you'd expect when paying for a premium brand, especially for a compact crossover. The interior is logically laid out, with buttons and dials for operating the vehicle's systems so you don't have to slavishly rely on fiddly touchscreen menus to do everything. It's a bit rebellious of Volkswagen to keep the focus on the manual options, but we like it-it's easy to use and straightforward.
Performance and Economy
You get one engine option with the 2017 Volkswagen Tiguan lineup, an excellent 2.0-liter inline-four TSI that offers 200 horsepower and 200 lb.-ft. of torque and a six-speed automatic transmission with a Sport mode. It's a zippy little unit that propels the Tiguan nicely, more nimble and far more responsive than many of its rivals. You'll be hard-pressed to find more fun in another compact crossover in this price range. As a bonus, it also gets decent gas mileage, with an EPA-estimated 22 mpg combined or 21 mpg when you add on the available four-wheel drive. That's hard to beat in this class!

View Inventory
Tiguan Features and Equipment
We love that the 2017 Volkswagen Tiguan offers everything you consider to be essential features on the base model. The S comes standard with 16-inch alloy wheels, 6.3-inch screen infotainment system, HD and satellite radio, USB and Bluetooth connectivity, VW Car-Net App-Connect ability, a rearview camera, Bluetooth, heated seats, automatic headlights, rain-sensing wipers, keyless access with keyless ignition and plenty more besides. That's impressive with even half the features.
VW Car-Net App-Connect

Allows users to select apps from a compatible smartphone right on the Tiguan's dash.

4Motion All-Wheel Drive

Get improved handling and handle inclement weather and challenging road conditions without worry.

Bi-Xenon Headlights

Brighter than halogen or regular filament bulbs, these headlights offer longer life and lower energy use.

Panoramic Sunroof

Extends over front and backseat passengers to bring the outdoors in.
Conclusion
You can pay upwards of $36,475 for an all-singing, all-dancing 2017 Volkswagen Tiguan SEL with 4Motion, but the entry level S model represents sensational value with a starting MSRP of just $24,995. Get an additional deal on that one as the 2018 Volkswagen Tiguan is unveiled, and you really will get an absolute bargain. The 2017 Volkswagen Tiguan is a compact crossover of real quality that's great to drive, practical, good on gas, and packed full of fun features.