2017 Volkswagen Touareg

Conservative and sophisticated are two words that describe the Touareg, which make it the perfect Volkswagen midsize luxury crossover. The 2017 Volkswagen Touareg offers the best of what Volkswagen can offer, a refined crossover SUV experience that is sure to impress.
2017 Volkswagen Touareg
The 2017 Volkswagen Touareg looks like the luxury crossover it is, with bright chrome accents and a design that creates an aura of refinement. The exterior is rounded, at first glance looking like other luxury brands, with emphasis on the linear chrome-accented grill and the 12-foot panoramic sunroof that adds a layer of sophistication that cannot be discounted. Though this is a Volkswagen, the Touareg feels like a more expensive luxury brand.
The Touareg keeps trim levels simple, offering three: Sport with Technology, Wolfsburg, and Executive. All three of these trims have a 3.6-liter V-6 engine that offers a healthy 280 horsepower, one of the most powerful engines that Volkswagen offers. You'll have enough potent power on tap to ensure that, wherever you go, you'll leave other midsize crossovers in the class in the dust.
If you haven't experienced a VW recently, prepare to rethink your preconceptions about what a Volkswagen offers as standard. The Touareg is exceptionally well-equipped, offering an extra layer of sophistication. Standard equipment in the entry level Sport model includes 18-inch alloy wheels, bi-xenon adaptive front lights, LED taillights and daytime running lights, leatherette upholstery, heated front seats, dual-zone automatic climate control, a touchscreen infotainment system, and power-adjustable front seats. The levels of standard features increases as the trim levels do, with the Wolfsburg offering things like standard panoramic sunroof, 20-inch Tarragona wheels and Vienna leather seating surfaces, and the Executive giving you pretty much anything you can imagine to create that luxury SUV driving experience.
Although the Touareg defines itself as a luxury crossover, this Volkswagen SUV has held on to its off-road capability. The Touareg can still tow as much as most buyers in this segment are likely to need. Though its handling isn't overtly sporty, despite that powerful V-6 engine, the Touareg offers a precise and composed ride as well as an agile feel.

Touareg Executive
The most luxurious trim in this luxury crossover line up, the Touareg Executive looks the part with 21-inch wheels, chrome accents throughout, the impressive 12-foot panoramic sunroof, and heated and ventilated leather seating. The interior is well-appointed as well, with 14-way power front seats, tons of storage, multiple power outlets (including 4 12-volt and 1 115-volt outlets), and an impressive array of driver assist features including the overhead view camera that gives you a 360-degree view of what's happening around you.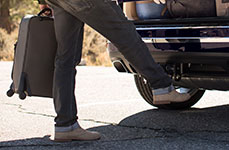 Hands Free Tailgate
Easy to open with your foot, the liftgate takes the hassle out of handling armfuls of cargo.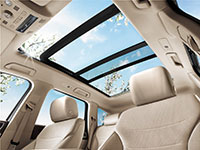 Panoramic Sunroof
One of the most luxurious design elements of the Touareg, the 12-foot panoramic sunroof lifts and tilts to let fresh air and sunshine in and is large enough to extend over the back row.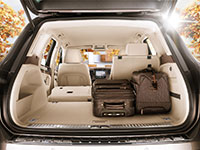 Cargo Space
The Touareg offers plenty of cargo space, with seats that can fold down as well to extend that for larger items.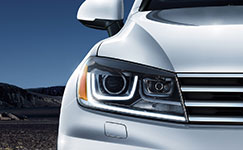 Bi-Xenon Headlights
These top-of-the-line headlights, as well as the LED daytime running lights, keep your Touareg visible no matter the weather.
Conclusion
The 2017 Volkswagen Touareg occupies a place almost of its own in the market. The brand tells us that it's not a full-blown luxury vehicle, but the quality on display here and the high levels of equipment and features does a good job of meeting the luxury mark. If you're looking for an alternative to the standard luxury SUV options, the 2017 Volkswagen Touareg should be the first vehicle you test drive.