2018 Volkswagen Atlas

The 2018 Volkswagen Atlas is here! Many have been waiting ages for the arrival of a midsize, three-row Volkswagen crossover to give competitors a run for their money. In an increasingly crowded and competitive market, how does the new Volkswagen shape up? Let's take a look.
2018 Volkswagen Atlas
The most obvious thing that sets the Atlas apart from the Touareg and the Tiguan is the styling. This new model looks a lot more American than its predecessors, with exterior styling that does a good job of hiding its impressive size. The Atlas is blockier and a little more truck-like in appearance than other VW crossovers, and it's easy to see parallels with the segment leader. The 2018 Volkswagen Atlas really is a handsome and imposing vehicle, and it fits beautifully into the segment.
The Atlas appears to make the absolute most of its interior space, which can't always be said of its competitors. Whether you want space for heads, legs, elbows, hips, bags, or suitcases, there's plenty in here. The Atlas comes standard with three rows and seven seats, with two seven-seat as standard with two rear seats that are fine for adults, although an option for a pair of second-row captain's chairs is also offered so it can also be specified as a six-seat.
In terms of interior style, the 2018 Atlas feels and looks like a Volkswagen. The style is functional and free of anything too fussy, but the way everything is put together is classic VW. The leatherette seat coverings in SE and SEL trims do a good job of impersonating real leather while still being more durable, although base S models still get standard cloth seats. Features like privacy glass, a power tilting and sliding sunroof, and a sound system with 8-inch touchscreen come standard in the base Launch edition which is fairly impressive for this segment.
Performance isn't usually at the top of the list of priorities for SUV shoppers as a rule, but the 2018 Volkswagen Atlas could change that. Its driving dynamics are above average for its class, and there's a generally refined feel in the Atlas that can seem luxury at times. A 235 horsepower 2.0-liter four-cylinder engine is standard in the 2018 model, derived from the unit already found in the Golf GTI. The power goes to the front wheels through an eight-speed automatic transmission, though there's no all-wheel drive option with this combination. For all-wheel drive you'll have to spring for the 276 horsepower V-6 engine option, which is smoother than the four-cylinder and is nearly silent in operation.

Atlas SEL with 4Motion
This top trim Atlas model offers luxury finishes with impressive performance. This model offers all-wheel drive and a trailer hitch package, as well as a whole host of driver assistance options (blind spot monitoring, park assist, rear traffic monitoring, forward collision and autonomous emergency braking). The interior is luxurious, with posh birch wood accents, heated leather seats in both the first and second row, power tilting and sliding panoramic sunroof, and a Fender Audio system. The SEL with 4Motion has thought of all of the ways it can make a driver's life better, and incorporated them into this model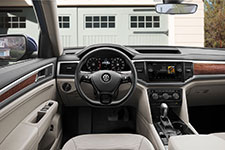 Digital Cockpit
This optional 12-inch display showcases driver-centric information, like adaptive cruise control details, speed, fuel economy, even contact information and recent calls from Car-Net.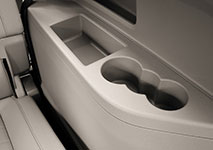 Plenty of Cupholders
Believe it or not, the Atlas can have a maximum of 17 cupholders available. If you've ever had to share a cupholder, you'll be impressed by the thoughtfulness of this feature!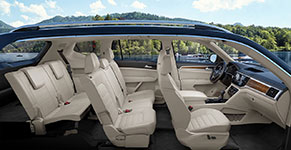 Roomy Interior
The Atlas comes standard with room for seven passengers, helping it rival even the practical minivan.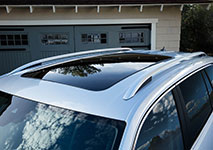 Panoramic Sunroof
The beautiful sunroof, which comes standard on the current base Launch trim, can tilt and slide open and extends over the second row.
Conclusion
The 2018 Volkswagen Atlas isn't revolutionary enough to change the market entirely, but it will cause some noticeable waves in the three-row midsize crossover ocean. Volkswagen has focused on what buyers really prioritize in this type and class of vehicle, and done its best to deliver it. The 2018 Volkswagen Atlas should be at the top of your list if you're looking for a seven seater SUV with style.