2018 Volkswagen Tiguan

The 2018 Volkswagen Tiguan is a mid-size crossover that's as family-friendly as they come, with the spacious cabin and sporty utility that adventurous drivers crave. The cabin has enough leg room for an entire basketball team, so you and your family members can expect a pleasant trip down the coast. In addition to comfort, tech features like smartphone integration help you make the most of your ride. You're going to want to take a closer look at this athletic crossover.
2018 Volkswagen Tiguan
Inside the 2018 Volkswagen Tiguan, you'll find road-trip-worthy accommodations for your family of five. Both rows offer excellent head and leg room, so your kids can grow into your Tiguan rather than growing out of it. The cabin is also home to plush cushioning, which is definitely your friend during bouts of rush-hour traffic. You can even add the style and luxury as you crave, including a panoramic sunroof and the Volkswagen V-Tex leatherette upholstery.
Whether you're an iPhone or Android user, the central infotainment system does an excellent job of keeping you connected. Apple CarPlay technology projects apps like Maps and Messages onto the Tiguan's touchscreen, so you can access them without looking down at your phone. Similarly, Android Auto displays apps like Google Maps and Telephone to give you turn-by-turn directions and make hands-free calls. Voice and touchscreen controls are intuitive, so can navigate all your options without diverting your attention from the road.
The road can be a dangerous place, and that's why the 2018 Volkswagen Tiguan is prepared for anything. The intelligent crash response system, for example, is designed to help keep you safe. This technology doesn't just deploy the airbags – it also turns off the fuel pump, unlocks the doors, and activates the hazard lights. The Tiguan also features a unique automatic post-collision braking system. Because not every collision brings your vehicle to a full stop, this technology is designed to reduce overall damages.
On the road, the 2018 Volkswagen Tiguan is at your disposal. This SUV is smooth and responsive for a refined ride around town, but it also turns up the heat with plenty of power on tap. In short, it's the kind of crossover that can pull off comfy, family-oriented jaunts around town and also deliver the occasional burst of speed. If your winters are icy, check out the Volkswagen 4Motion all-wheel drive system, which distributes power among all four wheels to keep you in control as you travel down wet or wintry pavement.

Tiguan SEL Premium with 4Motion
The Tiguan SEL Premium with 4Motion comes equipped with all-wheel drive, LED headlights, and nearly all the features you might expect from a top trim model. Leather, heated seats will make the ride more comfortable, and a Fender Audio system combined with a power tilting and sliding panoramic sunroof makes for an entertaining one. Park Pilot and an easy open and easy close hands-free liftgate makes life easier for both drivers and passengers.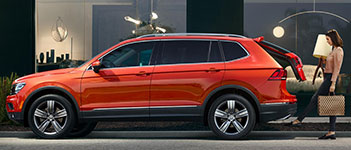 Hands-Free Liftgate
Don't drop your packages when you've got cargo to load–a simple tap with your foot will make opening and closing your liftgate as easy as possible.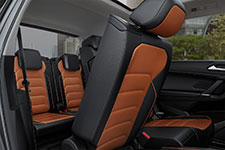 Available 3rd Row
Seat more passengers with the Tiguan's available 3rd row.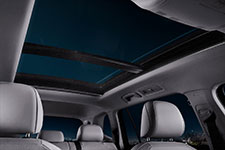 Panoramic Sunroof
Feel the freedom of a convertible with none of the challenges with the power tilting and sliding sunroof.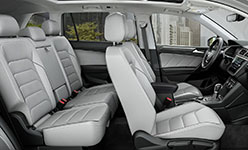 Leather Seating
Luxury surrounds you with leather seating, available on multiple trims.
Conclusion
The all-new 2018 Volkswagen Tiguan is a mid-size crossover that your whole family can love. You'll find enough head and leg room for everyone to enjoy ample personal space, and the plush, supportive cushions keep you comfortable through an entire day's worth of errands. Technology, including Apple CarPlay and Android Auto, keeps you connected – you don't even have to look away from traffic to call home or switch podcasts. Safety features are also plentiful, so you can enjoy a peaceful ride down the highway. You'll find everything you want in the 2018 Volkswagen Tiguan.