2023 Volkswagen Golf R in Burlington, NJ

2023 Volkswagen Golf R at Burlington Volkswagen
When you're looking for a ride that is safe but fun, the 2023 Volkswagen Golf R has you covered. This award-winning hatchback has a powerful engine partnered with highly effective safety systems and precision controls. When you're passing by Burlington, Levittown, or Trenton, you'll want to come to Burlington Volkswagen to schedule your test drive.
Top Features of The 2023 Golf R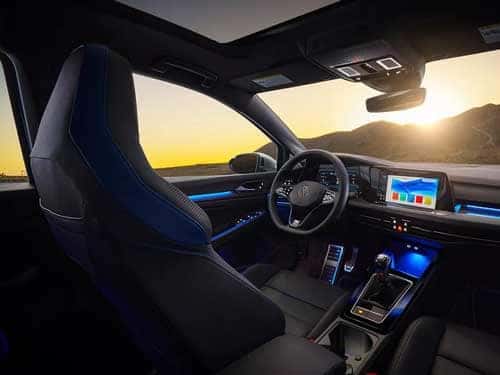 Highly Adjustable Seating
The Golf R puts an emphasis on comfort with innovative seating features like temperature control and advanced adjustability. The 12-way, fully power-adjusting driver's seat can be set to exactly your preference and can save three positions to memory.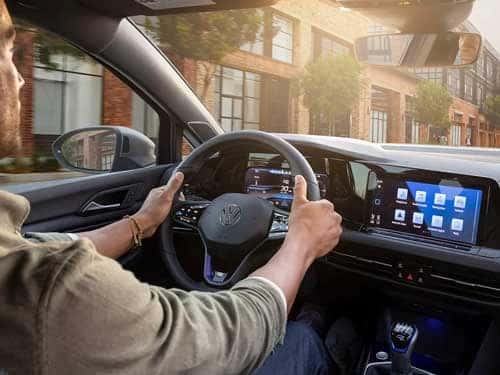 Ambient Light Displays
The Golf R has a stylish interior that feels futuristic and sleek. Ambient lighting at key locations provides bright accents of color in "R blue", giving it an ultramodern look. All the lights are customizable and can be set to your choice of 30 different colors among pre-loaded "moods."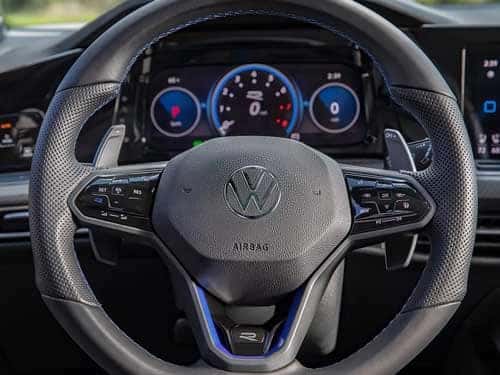 R Button
The Volkswagen Golf R is designed for speed on demand with superior control, and that's reflected in the inclusion of the "R Button". This button is located on the lower half of the steering wheel and activates Racing Mode when pressed, offering an exhilarating performance.
High-Performance Speed and Handling
The Golf R offers impressive performance that's sure to leave a mark on both you and your company. It comes equipped with the R-tuned turbocharged engine with an intercooler and FSI direct fuel injection. This gives you a speedy response as soon as you hit the pedal. It also sports a 6-speed manual transmission to allow more driving finesse and 4MOTION All Wheel Drive for balanced traction control. If you prefer to drive an automatic, it also has the available 7-speed DSG dual-clutch transmission.
Superior Safety
The Golf R pairs expert safety with its sporty design and claims the 2022 IIHS Top Safety Pick. Six Stability Enhancing Systems are installed to assist the driver with throttle control and wheel corrections when they are critically needed. This model can also help you brake during emergencies so that you avoid as much damage and harm as possible. The braking capabilities extend to post-crash situations as well, with Automatic Post-Collision braking that will help slow the vehicle after an accident happens.
An Eye-Catching Design
It's no secret that the Golf R makes a statement on the road. If you opt for the 20th Anniversary edition, you'll find all kinds of new additions throughout your vehicle that are sure to impress. You'll have a blue steering wheel that sports the "R" logo badge, alongside eye-catching 19-inch black glossy painted wheels. What really makes this trim special though are the puddle lights. Projected right by your door, you'll notice the number twenty alongside a signature "R." This makes for a great conversation starter, and it truly shines during the night. When you want a model that looks as great as it drives, the Golf R is a solid pick.
If you want your own 2023 Volkswagen Golf R, get pre-approved online before visiting  Burlington Volkswagen to see your financing options.