Press
Burlington Volkswagen helps families at
Ronald McDonald House of Southern New Jersey
Over 5 years of donations have surpassed $41,000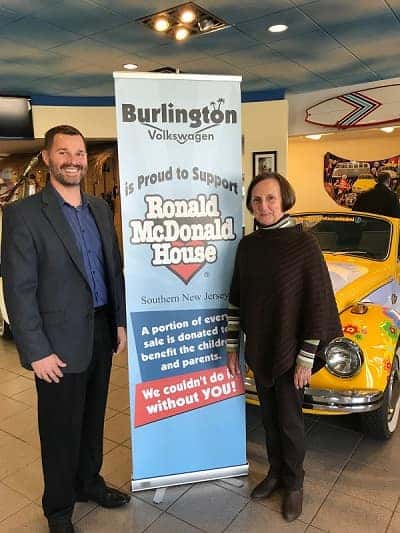 BURLINGTON, NJ (November 20, 2107)
Since 2013, Burlington Volkswagen has been donating $20 for every car sold to help support families with seriously ill children staying at the Ronald McDonald House in Camden NJ or using one of the Ronald McDonald Family Rooms in local hospitals.  In total, more than $41,000 has been donated.
"Giving back to the communities that we serve is one of our primary goals," said John Broderick. "Our support of Ronald McDonald House means that our contribution is helping local families when they need it most."
Teddy Thomas comments, "Having Burlington Volkswagen in our Gold Corporate Circle of Friends extends our reach north into Burlington and Mercer County where we have Family Rooms at Virtua Memorial in Mount Holly and Capital Health in Hopewell, as well as many families who need to stay in our home in Camden."
What:          Burlington VW donation
Who:           John Broderick, General Manager, Burlington VW
Teddy Thomas, Executive Director, RMHSNJ
Tina Fiorentino, Development Director, RMHSNJ
When:         Monday, November 20, 2017 at 11:30am
Where:        Burlington Volkswagen, 4500 US-130, Burlington, NJ 08016
About Ronald McDonald House of SNJ
For more than 31 years, the Ronald McDonald House of Southern New Jersey has served as a "home-away-from-home," for more than 27,000 families whose children are being treated at area hospitals for critical illnesses and traumatic injuries.  By helping alleviate emotional stress and financial hardship during a time of family crisis, we enable more than 800 families each year to focus on helping their child heal.  Families come from as close as the Southern New Jersey/Greater Philadelphia region and from as far as every state and 39 foreign countries, joining us during what is likely the most stressful time of their lives.  Fortunately, many patients do not require hospitalization therefore approximately 70% of the children also reside in the House with their parents while going back and forth to the hospital for daily treatment.  Our charity also operates 11 Ronald McDonald Family Rooms, which are located in hospitals across Southern New Jersey helping another 14,000 local families.