Benefits of Servicing with Burlington Volkswagen

A Vehicle Service Team You Can Trust
The importance of routine vehicle maintenance cannot be overstated, and when it comes time for your vehicle's maintenance or repairs, head over to Burlington Volkswagen in Burlington, NJ. Our certified technicians in our service department have the skill and knowledge to give your vehicle the best care possible. We understand that finding the time to take your vehicle in for maintenance or repairs can be difficult, which is why we help you save time with our quick and easy online service scheduler. Don't wait, schedule a service appointment today at Burlington Volkswagen so you can hit the streets of Trenton, Brick, and surrounding areas with confidence.
---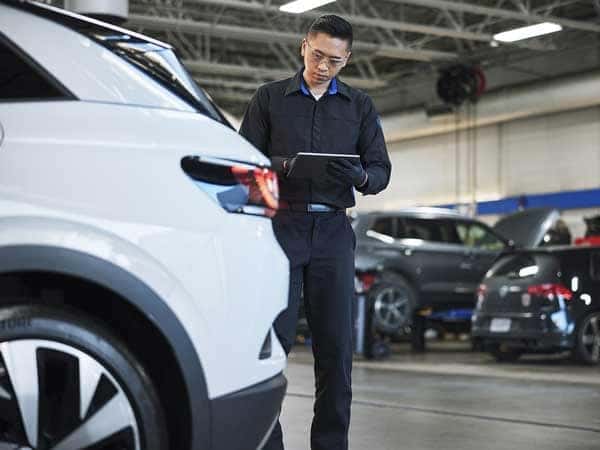 A Convenient Online Scheduler
At Burlington Volkswagen, we do everything we can to make it easy for drivers to take care of their vehicles. Our online service scheduler is just one of the ways in which we can make vehicle maintenance more convenient. If you're a new customer, all you need to do is enter some basic information like your vehicle's year, make, and model, and answer a few questions about the appointment you want to schedule. Consider making an account that'll safely store some of this basic information so that you can save even more time the next time you schedule.
A Vast Array of Services
We offer a wide variety of services in our service department at Burlington Volkswagen. Our expert technicians are trained to work on almost any vehicle, whether you have a new vehicle like the Volkswagen Taos or a pre-owned model of a different make. Whether you need routine maintenance, repairs, or new parts installed, we've got what it takes to get the job done right. Some of the services we offer include:
Tire Service: Whether it be tire inspections, repairs, or rotations, tire service is crucial to your vehicle's performance and safety.
Oil Change: To protect your engine, you'll need to keep up with routine oil changes. Make sure your vehicle gets its oil changed every 5,000 miles or on the schedule recommended by the manufacturer.
Brake Service: Every part of the brake system needs to be in good condition to keep you safe in your vehicle. Brake service involves inspecting these parts and repairing or replacing any components that are damaged.
Battery Service: Avoid getting stranded due to a dead battery by taking your vehicle in for routine battery inspections. Your battery won't last as long as your vehicle, so make sure you know when it's time to get it replaced.
Wheel Alignment Service: Every 12 months or so, your vehicle will need to have its wheels aligned to prevent uneven wear on your tires.
---
Learn More About The Services We Offer
---
Trust The Service Department at Burlington Volkswagen
As you can see, we provide a wide range of services at Burlington Volkswagen. If you prefer to schedule a service appointment on the phone or in person, or if you have any questions about our services, give us a call or stop by at your earliest convenience.
Extend the life of your vehicle and schedule its routine maintenance at a quality service department like the one at Burlington Volkswagen.