2023 Volkswagen Jetta GLI in Burlington, NJ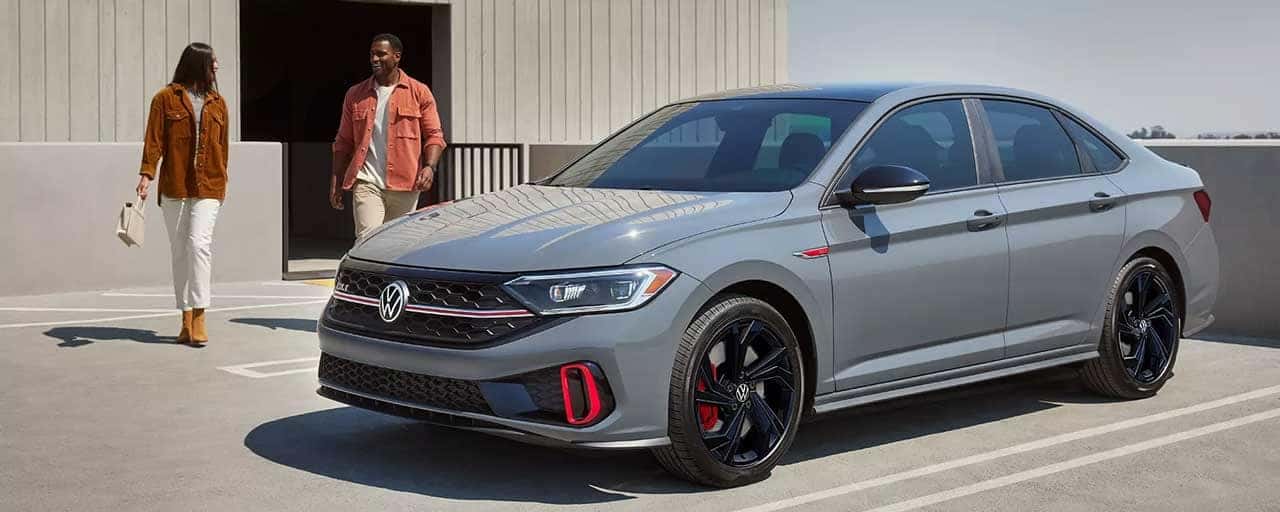 2023 Volkswagen Jetta GLI at Burlington Volkswagen
There are plenty of sedans on the road currently, but when you want a model that offers pristine performance, you're going to want to look to the 2023 Jetta GLI. With standard features that go a long way, this model has proven itself to be captivating since its debut in 1984. When you want to have your own set of keys for the Jetta near Levittown, Burlington, or Trenton, you're going to want to schedule a test drive with Burlington Volkswagen.
A Responsive Drive
The 2023 Jetta GLI is the perfect choice if you find yourself longing for both speed and practicality. With both of these wrapped up into the same model, it's truly difficult to pass up on the Jetta. You'll be outfitted with a 2.0L turbocharged direct-injection TSI engine, which allows you to power through roads with a sleek performance that makes every drive a pleasure. Behind the wheel, you'll have immediate access to 228 horsepower alongside 258 Ib-ft. of torque. As soon as the engine receives gasoline, you can expect a riveting performance that will make every drive fun. On top of that, you can expect masterful handling thanks to the other features that make up this model, like your transmission. When you need a drive that feels comfortable and powerful, there's simply no better choice.
Purely Innovative Technology
When you're constantly running errands or making trips, you're going to spend a lot of time sitting in the cabin of your Jetta. That's why you'll have access to some of the industry's most cutting-edge features, such as the Volkswagen Digital Cockpit Pro. Instead of a standard mechanical dial, you'll have access to all kinds of information as you drive, including directions, the time, and even a compass if you choose. When you really want to impress your company, you're going to want to turn toward your remote start. At the press of a button, you'll be able to hear your vehicle roar to life. As an added bonus, when you get close, you can watch as your vehicle automatically unlocks its doors thanks to keyless access. Your cabin should feel like a second home, and with the 2023 Jetta GLI, you'll find plenty of features that bring both comfort and ingenuity to the table.
The Power of IQ.DRIVE
Driving isn't always enjoyable when you find yourself droning on in a straight line on the highway. The 2023 Jetta GLI aims to change that though, which is why you'll be able to equip the available IQ.DRIVE. This adds features like Travel Assist and Adaptive Cruise Control, which can make for a highly noticeable difference. When these features are in play, your vehicle will automatically keep pace with traffic, slowing down as needed. If you find that you begin to drift into another lane, you can rely on other features in IQ.DRIVE such as Lane Assist, which can help to quickly correct the issue. Other features include Emergency Assist, Front Assist, Rear Traffic Alert, and even an Active Blind Spot Monitor. Safety is important, which is why this package is as expansive as it is effective.
When you're after the 2023 Jetta GLI, you're going to want to get pre-approved online so that financing at Burlington Volkswagen is quick and easy.
We appreciate your interest in our inventory, and apologize we do not have model details displaying on the website at this time. Please fill the form out below and our team will quickly respond, or, please call us at 609-534-7993 for more information.